I don't know if I ever mentioned before that Urban Outfitters is currently my FAVORITE store. I love the style/brands. This week my wish list is brought you straight from their website (Yeah I do a lot of online shopping).. As the warmer months approach I'm so feeling the basic tee, baseball cap, destructed denim, and sneaker looks. Pretty much like a boy. But a really pretty girly boy.. O_o.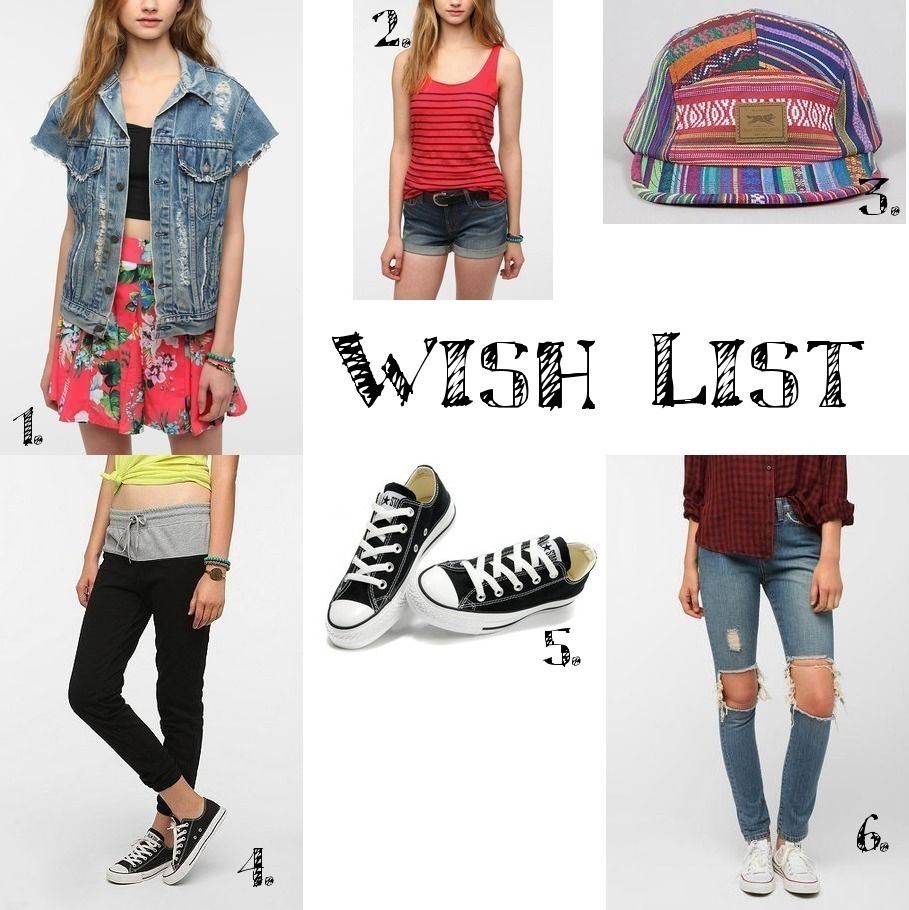 It is my opinion you can never have too many denim jackets and tops. This short sleeve destructed version is SUCH a staple piece and can be mixed and matched in hundreds of combinations, (no exaggeration). Oh! not to mention its on sale for 39.99. I've had my eye on these BDG shirt tail tops forever, they come in several colors and are 2 for 22$ or 16$ each if bought alone. I LOVE a basic and/or basic striped t shirt. They are perfect for a run around/hang out look. (depending on where you're running around and hanging out at lol). I can't express how much I adore tribal prints, this cap is super dope. SO many colors, it can be paired with unlimited amounts of tee shirts, for a not so plain plain Jane look.. along with the Urban renewal jacket. HINT HINT. I like these color block track pants to be completely honest I would wear the EXACT outfit the model is wearing. Well, actually I was planning on it *wink*. Converse All Stars are a timeless classic shoe, I have yet to add a black pair to my collection. They go with EVERYTHING, skirts, leggings, dresses, jeans, it can give any feminine look the cute tomboy effect. EVERY girl should own at least one pair. It's really not much to say about these destructed jeans other than they are bad ass and I LOVE them. So many options when it comes to these jeans.
NOW. I know sometimes Urban Outfitters can be expensive so I have done some research and found similar looks for much less, all from Forever 21. Check out my wish list on a diet.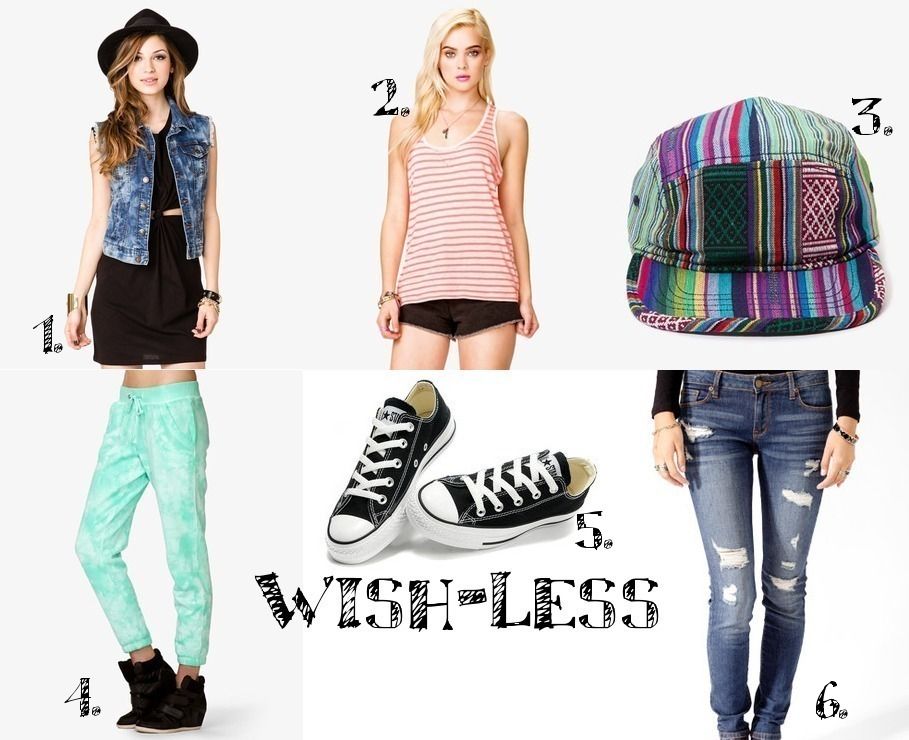 Similar jacket for a fraction of the price. SUPER CUTE!! These linen blend tank tops are totally comparable to the ones at urban outfitters, and they come in three different colors. Same fashion functionality.. basic tees. Forever 21's version of the five-panel hat is still just as dope as the Obey one. Awesome colors to mix and match with your favorite basic tee's. These mineral wash sweats are awesome and can be paired with a basic top or denim button down. (they are actually on my f21 wish list). So, when it comes to All Stars there are just no substitutes, pay the 50.00 have an awesome shoe, and be merry. Distressed denim jeans.. super hot at a fraction of the cost compared to the BDG pants. 
Which of these are your favorite? Do you like the expensive vs less expensive option? Would you like to see more wish list posts like this?
Making my dreams come true,
Ash