As you all have figured out by now my name is Ashley and I am a shopaholic. I really have a problem. I am always shopping. One place that is my look for all go to spot is eBay. They have pretty much anything you can want, low prices, all from the comfort of your home or mobile phone. Check out some items I've added to my collection this week.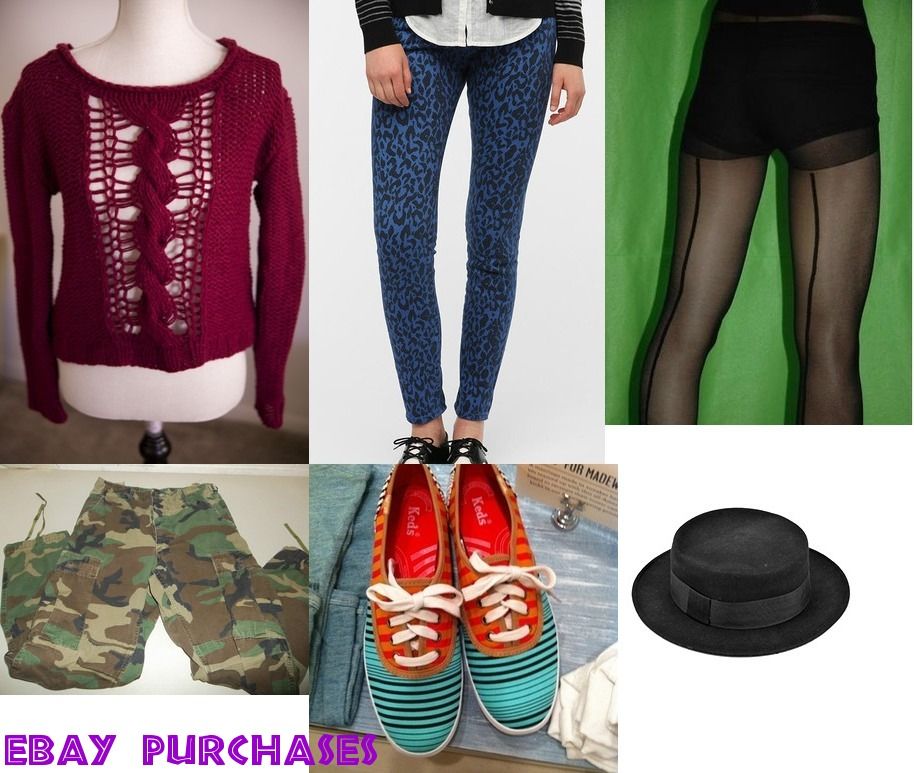 Urban Outfitter's Hand Knitted Sweater (Brand New!) 19.95
Urban Outfitters B.D.G High Rise Skinny Jeans (Brand New!) 12.99
Back Seam Tights (Brand New1!) 4.90
Vintage Camo Pants 17.99
Madewell Keds (Brand New!) 49.99
Wool Bowler Hat (Brand New!) 12.99
Total: $118.00
I had been watching this sweater for a WHILE. A few days ago I made another purchase (its a secret) and needed a wine colored sweater to go with it. Viola. I just love these jeans. First of all I love animal print second I love B.D.G. jeans. I will probably wear these jeans with a neon colored top and moto boots layered with solid color cardigan to balance out all the colors. I have always wanted some back seam tights so now I have some :) the possibilities are endless with what can be done with them. EVERY person (yes person) should own a pair of camo cargo pants. They go with sooooooo much (remember camo is a neutral print). These Madewell Ked's I just could resist, can we say summer summer summer time? Another staple piece is a bowler fedora style hat. Oh! This baby can be worn with dresses, tee shirts, blouses, you name it.
Which is your favorite?
I can help you find items like this amongst others email me
Ashleytamara1@gmail.com
to set up your consultation now.
Making my dreams come true,
-Ash