Spring is just around the corner and it's time to switch up styles and readjust your closet. I have been looking for standout accessories and boy I have I found some. These all come from stores on etsy and are hand made :) Check them out and SUPPORT these businesses by making a purchase.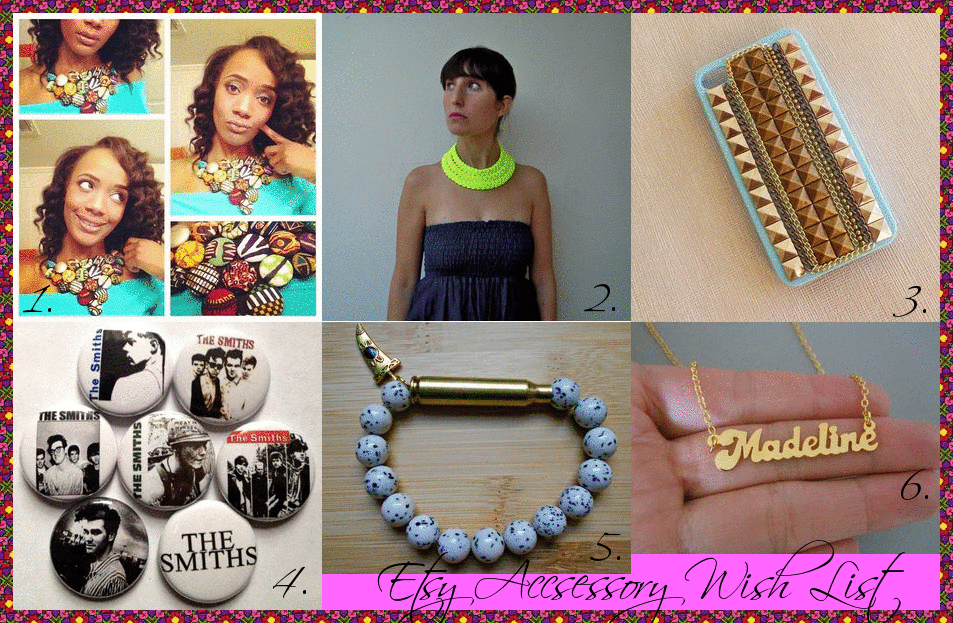 What is there NOT to like about this necklace. I def will be adding it to my collection so fab and random. This thing can be worn with all types of solid color tops. If you know me you know I absolutely ADORE the neon green color, I also love a statement piece necklace. So this handmade braided necklace is PERFECT. For all you iphone gurus out there this shop makes super dope cases that are studded out, so dang cute. I have a collection of denim jackets and vests. I really would like to put these buttons on one of them and go with a edgy look. Same shop Style Identity also has created this gorg beaded bracelet that is enclosed with a real life bullet casing.. if this is not hot I don't know what is. Very unique/outstanding piece. Last but certainly not least is a personalized gold plate necklace. I don't know why but I just love the idea of having one of these. Trends always repeat. I remember these from back in the 80's- 90's well guess what they are back. What would yours say? Which is your favorite item?
All of the items I selected come from Etsy stores. These selections are my favorites from the stores. Each shop has a HUGE selection of other items that are excellent as well. Enjoy!
Making my dreams come true,
-Ash